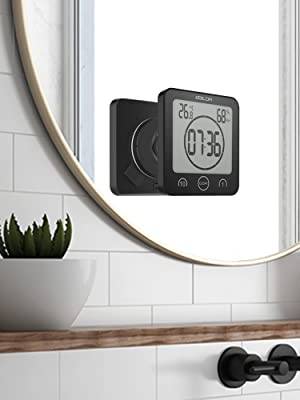 Attach to any smooth surface
Waterproof Shower Clock
With Timer Function
The most significant features of this LCD shower clock are its compact size and the timer function. For those who easily lose time track when doing morning makeup or taking shower, a shower clock with timer is essential. This clock is waterproof, features time, temperature, and indoor relative humidity all in one screen. Its compact size is perfect for use in the shower or next to bathroom vanities.
Waterproof for water splashes

Easy set timer via buttons on front

Large time display

12/24 hours selectable display

Indoor temperature display with℃ or ℉

Indoor humidity display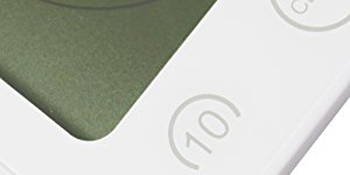 Convenient Timer Function
Easy setting timer alarm by pressing the touch buttons on front. Adding up by 10 mins or 1 mins, or clear any time left. The count down timer will beep at the end. The maxi. timer can be set to 99 minutes.
Timer up to 99 minutes

Easy setting by touch button

Clear the timer time easily

Adding up by 10 or 1 mins

Alarming when timer ends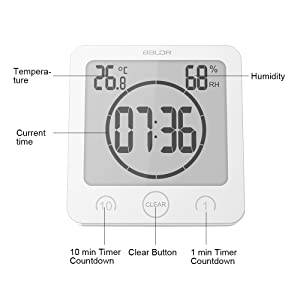 Time Display Mode
LCD Clock features time, temperature, and indoor relative humidity readings all in one screen. Time can be displayed in a 12 / 24 hour mode, and temperature can be shown in Fahrenheit or Celsius.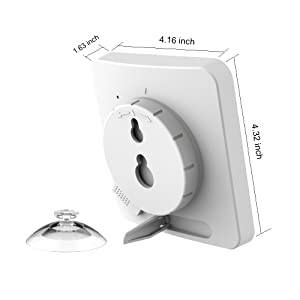 Multi Mounting Options
· Power Supply: Powered by two AAA batteries (sold separately), no need for wires or plugs.
· Measures:Size of 4.16"x 1.63"x 4.32". Idea for bathroom, but can also be used in office or night stand.
· Position &Placement: 3 Mounting Options LCD clock can either be free standing, wall mounted, or hung on a hook.
Countdown Display Mode
· On normal time display mode, touch the '10' or '1' key to set desired timer time. While the current time display is shift to the left down corner.
· When timer working, there will be a signal flashing on the right down corner of screen.
· When setting timer time, touch 'Clear' key will clear the timer time andreturn to normal time display mode.
| | | |
| --- | --- | --- |
| General | | In the Box |
| | | 1* B0007STH Timer Shower Clock |
| | | |
| | | |
| | | |
| | | |
| | | |
| | | |
General

1* B0007STH Timer Shower Clock

1* User Manual
---
How to change temperature setting from celsius to fahrenheit on clock?
There is a button to change it on the back of the device under the battery cover.
I don't see a stopwatch timer on here so that you can start and stop the timer? Am I missing something?
The timer buttons are on the front face, press "1" for each minute, and "10" for each ten minutes. Then the timer will automatically start counting down.
If you mean can you see it in the dark, no.
Don't see the answer you're looking for? Send us your questions